International transport - Europe
Foreign transport to European as well as Non-European countries. Transport of goods by road, air, ship and rail.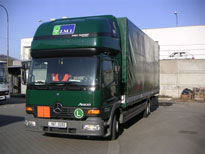 Home > Services > International transport - Europe
Despite our specialization in Switzerland, we also provide nationwide transport in the Czech Republic as well as international transport to any European and Non-European countries.
In such events, we often us the services of our contractual carriers who either specialize in a given area or are currently located there.
Thus, we minimize the costs and therefore also the final price of transport which is agreed individually in these cases depending on each particular delivery. Even in these cases our contractual terms of transport are applicable as stated in the transport order - see the request form.
INTERNATIONAL TRANSPORT (FOREIGN TRANSPORT) PROVIDED BY J.M.I.:
road transport,
air transport,
shipping,
railway transport