About our company
History and presentation of J.M.I., s.r.o. company.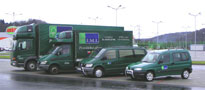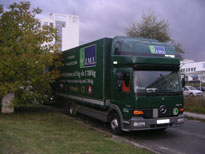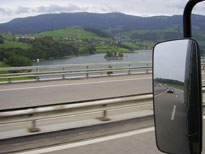 History
Our company J.M.I., s.r.o. was formed in 1995 and it picked up the threads of a post-war family business called Autodoprava Rudolf Ježek, after 1994 called Autodoprava Zdeněk Ježek. We have specialized in the transport to Switzerland since 1998.
Switzerland Specialist
Thanks to our specialization, our knowledge of the region and our established contacts, we are able to deliver consignments with maximum efficiency, at favourable prices and within the required period while respecting other wishes of the customers.
Broad range of services
Besides the above specialization, we also provide domestic transport services as well as transport to other European as well as Non-European countries, customs clearance of consignments, storage, transshipment and insurance of the consignments.
Constant growth of our company
Our company was originally formed as a small family business, but thanks to its successful business activities it has been expanding and growing each year and also our vehicle fleet used for the transport of your goods is growing. We place emphasis on the quality and reliability of our vehicles and we therefore acquire solely new vehicles mostly of the Mercedes-Benz make.
Company reliability
The reliability and skills of our drivers are also very important to us. Therefore, besides thorough initial training, our drivers regularly undergo examinations in the traffic rules, medical check-ups and they also regularly attend training courses to improve their skills.
Company stability

We are still able to accept and cope with the constantly deteriorating legislative conditions of transport, be it in our country or in other European countries, the increase in fuel prices and highway tolls with only a minimum increase in our prices.
Use the services of our company and you can rest assured that your goods will be delivered on time and according to your requirements while keeping favourable prices.
We look forward to doing business with you
J.M.I., s.r.o. company staff