Customs clearance in Switzerland
Information and approximate prices of customs clearance in Switzerland.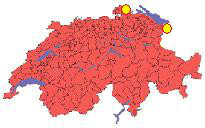 Swiss customs administration
Home > Services > Customs services > Customs clearance in Switzerland
WE DO THE CUSTOMS CLEARANCE ONLY AS A SUPPLEMENT OF THE TRANSPORT BY OUR VEHICLES
We arrange for customs clearance in Switzerland through our customs partners at the following border crossings.
CH-Thayngen (CH002471) / D-Bietingen (DE004101)
CH-St. Margrethen da Au (CH003081) / A-Wolfurt (AT930101)
When importing goods into Switzerland, the costs of customs clearance are usually subsequently invoiced to the recipient of the consignment, unless otherwise specified in the delivery terms (such as DDP).
APPROXIMATE PRICES OF CUSTOMS CLEARANCE IN THE SWITZERLAND ARE LISTED IN THE PRICE LIST WHEN CALCULATING TRANSPORT:
Import into Switzerland
Import customs declaration at the border crossing
Export from Switzerland
transit document T1
export customs document AD
issuance of the certificate of origin of goods EUR.1
When exporting goods from Switzerland into the Czech Republic, the transit document T1 is usually issued for the goods for a flat price of ... . If the consignor in Switzerland failed to arrange for export customs clearance of the goods, this can also be arranged for by our partner at the border for the price of ... , and also the certificate of origin EUR.1 can be obtained for the same price of ... if so requested in writing by the customer in the order.